What makes Nourish different?
Nourish is the leading digital care management platform. With unrivalled configurability and significant frontline experience in the team, it's not hard to see why.
Many of our team members have extensive backgrounds in care. This means we understand your needs like no one else. Our digital records system offers complete flexibility that aligns precisely with the needs of your service and seamless integration with other tools.
With everything you need to provide best practice care all safely in one place, we can help you save time, increase productivity and improve the lives of the people you support.
Extensive social care experience
At Nourish, we understand care. Many of our team members have first-hand experience of working in care, from carers and activity coordinators to registered nurses and managers. This gives us unique insight into the challenges you face.  
This experience is vital to the work we do. We've introduced roles like our Clinical Lead and Safety Officer with nursing and care experience. This means we put the outcomes of the people supported by care at the forefront of everything we do.    
This wealth of experience has shaped Nourish into what it is today. Our platform is the culmination of years of collaboration with care providers and working with people who receive care and their families. By working with us, we'll help you to support people to live life to the fullest. 
Unrivalled configurability
We understand that it's essential to retain what is unique about your care service. Nourish is configurable and flexible to suit the unique needs of your organisation and the people you support. Rather than operating on a one size fits all basis, Nourish can be personalised to your service.  
We make sure that any transition from paper or another digital care planning platform is smooth and easy. We'll develop the processes and standards that fit perfectly with your organisation.  
We chose Nourish because of the configurability and ease of use with a strong focus on structured data.
BestCare LTD
Support for every type of care
Each care service is unique and we understand that a blanket approach just doesn't work. Nourish can be tailored to every care type and has been built alongside health and social care professionals and best practice organisations.  
Nourish is loved by
Domiciliary (Home) Care Services
Learning Disability Services
Residential and Nursing Care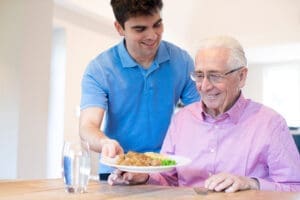 Everything you need to provide best practice
When you begin your Nourish journey, we set up your Library with all you need to get started.  
Your Library contains templates for care planning, recording interactions, assessments and much more. We tailor it to help you manage any specific pathways, medical conditions, frailties and day-to-day operational needs. Our robust collections can adapt to any care setting. Some elements are locked to ensure compliance to a particular protocol or standard, but most can be customised to suit you.  
Our Libraries have been built alongside care and clinical professionals, with a deep understanding of providers and the needs of the people you support. The Nourish platform also offers an easy way to build your own specific care plans, so that you can always retain what is unique to your service. 
Never lose access to important records
It's crucial to have access to care records and vital information around the clock. If your internet goes down or you need to access information without a connection, we've got you.  
The Nourish app continues to work offline. Care notes are timestamped when they're written, meaning carers can keep recording and notes are automatically uploaded when your internet is restored.  
Our offline functionality means your team continue to provide the best level of care and record it on the go in any situation. 
Benefits of offline access: 
Record care even when the internet drops

 

Access and record notes even in internet black spots 

 

Carry out initial assessments while offline

 

Record on the go when out in the community

 
Joining up all your technology
There are many innovative tools available to help you deliver person-centred care. Technology that prevents falls, supports pain management and simplifies medication records can all help you in your work.  
But if you're using different systems, it's important that they can communicate with each other and share data. It means your team will always have the most accurate and up-to-date information about the people you support.  
This is where digital integration comes in. At Nourish, we're accelerating the digital transformation journey by working together with other experts to push the boundaries of what's possible with health and social care technology.  
We have a set of incredible partners we work with so that Nourish acts as a central hub where all systems seamlessly communicate with each other. This gives care teams rich and up-to-date information at their fingertips.    
Take part in a demo today to find out what makes us different.